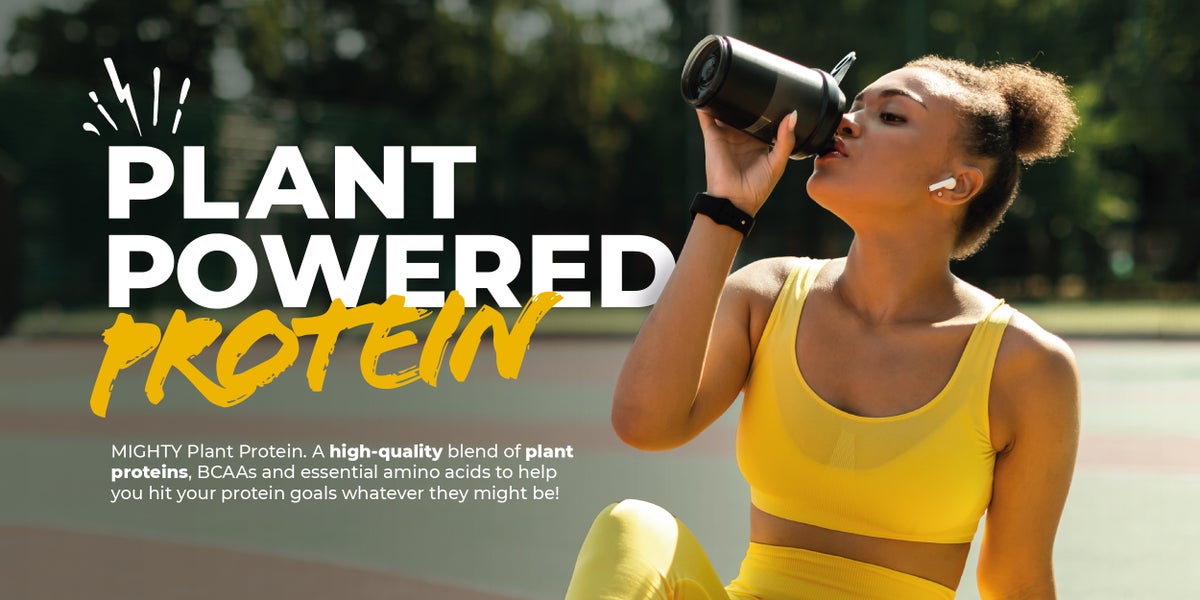 MIGHTY ULTIMATE PROTEIN POWDERS
Meet our vegan, plant-based protein powders. The incredibly easy way to increase your protein intake whilst sticking to a plant-based diet.
ABOUT OUR ULTIMATE RANGE
Our Ultimate plant protein powder range is crafted using an ultimate blend of high-quality plant proteins (pea, faba bean, rice & sunflower seed), super greens (matcha, chlorella, spirulina) and 15 vitamins and minerals. It's been scientifically formulated to drive your body through your active lifestyle.

A single serving contains a whopping 20g of high-quality protein per serving with 4g of BCAAs (that's Branched Chain Amino Acids to us non-scientists) Leucine, Isoleucine and Valine in a 2:1:1 formulation. We've also added in those 15 vitamins and minerals for an extra health boost.
What's more, they don't break the calorie bank being under 120 calories a serving. Plus, they're low in sugar and contain no dairy or animal products - just sustainable vegan goodies.
Find our Ultimate protein in 3 great flavours:


FREQUENTLY ASKED QUESTIONS
WHAT'S IN OUR MIGHTY ULTIMATE VEGAN PROTEIN POWDER?
Our Ultimate range uses our ultimate blend of plant proteins – Pea, Faba Bean, Rice & Sunflower Seed. We've also added in 15 different vitamins and minerals plus 3 super greens as a health booster.
WHY DOES MIGHTY PLANT PROTEIN COME WITHOUT A SCOOP
Our MIGHTY protein lines are now scoop free. We've discovered that many of our customers have a scoop(s) and they prefer to reuse rather than receiving a new plastic scoop with every bag. So, we've taken the decision to remove scoops as a way to reduce waste and our impact on the environment.
A convenient alternative for anyone without a scoop is to use a tablespoon. Two heaped tablespoons (roughly 30g) makes up a serving.
HOW TO USE MIGHTY PROTEIN?
Looking for great ways to enjoy our plant protein powder, try adding it to:
> Overnight oats
> Porridge
> Smoothies
> Pancakes
Alternatively, whip up a great-tasting, nutritional vegan protein shake by adding our protein powders to water or one of our milk alternatives. You can add more or less liquid to adjust the thickness and taste to suit your preference. Try adding our new oat m.lk powder for extra creaminess.

IS VEGAN PROTEIN POWDER AS GOOD AS WHEY PROTEIN?

Whey protein is said to be the best because it contains all 22 amino acids that your body needs. The problem is, it's a by-product of the cheese-making process and so it's a dairy product. That means it's not right for vegans who need to get a complete range of amino acids from other vegan protein sources. That's where our MIGHTY Protein Powders step in. They're packed with plant-based protein and when combined with a varied vegan diet help you get the range of amino acids required.
IS MIGHTY VEGAN PROTEIN POWDER COMPLETE?

Whilst our protein powders contain 4g of BCAAs, they do not contain all 9 essential amino acids and are therefore not complete. It's highly unusual for plant-based protein powders to contain all EAAs
It's a good idea to combine MIGHTY protein with a variety of vegan foods. Eating a varied plant-based diet and adding in a MIGHTY plant protein can help to ensure you get the full amino acid profile your body needs.
WHAT'S THE BEST VEGAN PROTEIN POWDER?

Well, ours obviously, although we might be a bit biased. To give you some background, complete proteins are the best as they contain all 22 amino acids, and many animal products are seen as complete proteins. For anyone following a plant-based diet, who don't eat meat, fish, dairy products or eggs which are all packed with protein, it's important to get complete protein from a variety of other types of food. Our vegan protein powders use a combination of plant-based protein sources to give you a better range of amino acids.