MIGHTY POWDERED OAT MILK
Say Hello to fresh oat m.lk whenever you need it! Powdered oat milk comes in a lightweight and portable pack where all you need to do is just add water to never miss out on plant-based m.lk again.
ABOUT OUR POWDERED OAT M.LK
It's a plant-based, dairy-free vegan milk powder substitute in a super-convenient lightweight pack (375G) or our best value pack at 1Kg.

It's an excellent store cupboard essential to have in case of emergencies, like when you open the fridge and find an empty space where the oat m.lk is supposed to be.
Or, for when you want to get your fix of oat m.lk on-the-go. Take it with you camping, backpacking, travelling, days out, music festivals or on a picnic, or even to work for your regular cuppas.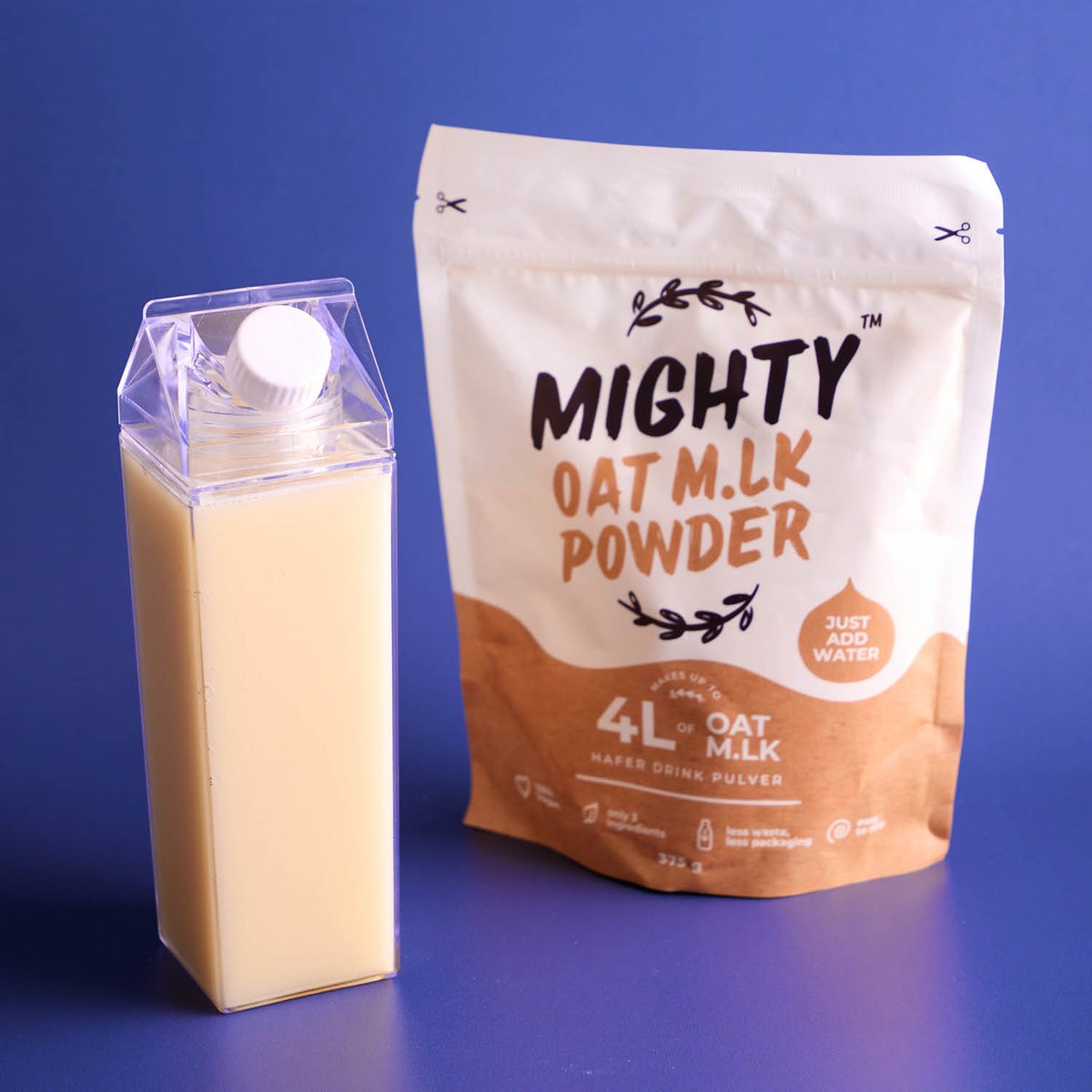 HOW TO USE OUR MILK POWDER
1. Add roughly 25g to 250ml of cold, fresh water. (Adjust using the 10g per 100ml ratio)

2. Give everything a good stir/shake.

3. Add to a food safe bottle and store in the fridge before enjoying.


Bake it your way! The beauty of oat m.lk powder is it's versatility, and it comes to life through baking. Weigh it out as a dry ingredient and add your water later on, or make it into a milk and add the required liquid.
Or use as a vegan coffee creamer and stir directly into your hot drinks. We recommend 1-2 teaspoons per brew (10g).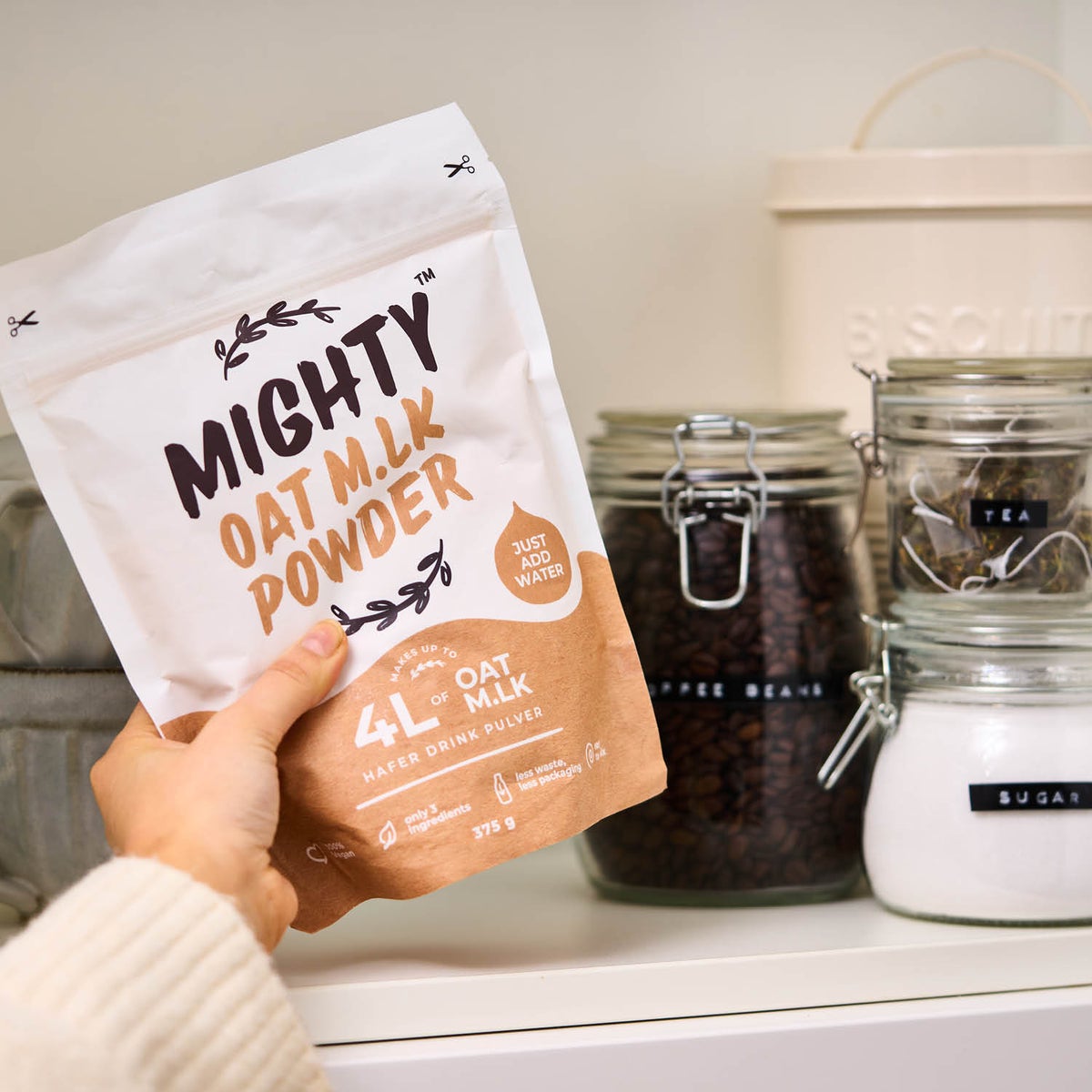 MIGHTY POWDERED OAT M.LK INGREDIENTS
We've kept our ingredients simple on this one. You'll only find 3:
1. Oats – for that oaty taste.
2. Coconut Oil – for extra creaminess.
3. Salt – to bring out even more flavour.
Nothing more. Nothing less.
Best bit? You won't find any surprises like added sugar or artificial flavourings and sweeteners. We've kept those out and left in pure, good old-fashioned plant-based goodness.
TRY NOW
FREQUENTLY ASKED QUESTIONS
WHERE DO THE OATS COME FROM?
We work our hardest to source quality ingredients with a low environmental impact. In particular, we're always looking to reduce the air miles that go into our products. So, we are pleased to say that our oat milk powder is made from oats that are sourced across the EU.
DOES IT DISSOLVE EASILY IN WATER?
Our Oat Drink Powder is super easy mixing in both water and when stirred directly into hot drinks. Simply, scoop up and stir in. Give it a mix for about 10-15 seconds for the best results. Then you're left with your fresh oat drink that's deliciously creamy.
WHAT DOES OAT M.LK POWDER TASTE LIKE?
When made up, our powdered oat m.lk tastes just as good fresh oat m.lk from a carton. It's got a deliciously creamy feel and a moreish oaty taste. It's naturally sweet from the oats (we don't add any sugar or sweeteners) and it's super easy mixing so you don't have to worry about grainy textures.
HOW LONG DOES OAT MILK POWDER LAST?
Packs have a long shelf life and last up to a year. Store in a cool, dark place and once opened, fully reseal the pack keeping it in a moisture free spot.
DOES MIGHTY OAT M.LK POWDER CONTAIN ANY ARTIFICIAL FLAVOURINGS AND SWEETENERS?
Absolutely none.
Each pack of MIGHTY oat m.lk powder has only 3 ingredients: oat, coconut oil and salt.You won't find anything else. No added sugar. No artificial sweeteners. No animal products.
HOW CAN I USE OAT MILK POWDER?
We might be bias, but we think it's great on everything. It works for:
o Cereal
o
Baking
o Cooking
o Smoothies
o Protein shakes Or use it as a dairy free coffee creamer and stir directly into coffee and tea.And, as our oat m.lk powder comes in an easily portable bag you can take it travelling, camping, or to work with minimal fuss.Check out our guide to
powdered oat m.lk uses
.
WHAT IS THE PACKAGING MADE FROM? IS IT RECYCLABLE?
Bags are made from LDPE plastic which can be recycled. But, before you chuck them in your green wheelie, make sure to check locally whether your council can take the bags.
If not, bags can be recycled at large stores/supermarkets.
HOW MUCH OAT POWDER DO I NEED TO USE?
Our recommendation is using 10g of powdered oat m.lk per 100ml of water. Adjust using this ratio for the volume required. You can add extra creaminess by using slightly more powder.
DOES OAT MILK POWDER FROTH?
Yes! Whilst, our powdered oat m.lk isn't made to the same spec as a barista oat milk alternative, you can still use it to make your favourite hot drinks.
To do this, make up as much oat m.lk you need (use ratio of 10g powder per 100ml water) and use a steamer or your preferred frothing device to achieve the desired level of frothiness.
CAN OAT MILK POWDER BE ADDED DIRECTLY TO HOT DRINKS?
Yep, simply scoop up our plant-based creamer and stir into coffee and tea. There's really nothing more to it because our oat-based coffee creamer mixes well with no residue.
We recommend 2 teaspoons per brew, but you can add more or less depending on how creamy you like it.
IS MIGHTY POWDERED OAT M.LK LACTOSE FREE?
Yep, our oat m.lk powder is made without dairy and is naturally lactose free.
WHAT ARE THE BENEFITS OF OAT MILK POWDER?
Switching to MIGHTY Oat Powder means you can:
o Reduce waste
o Reduce packaging
o Reduce CO2 emissions
Help us build a more sustainable future.
WHAT'S THE DIFFERENCE BETWEEN OAT MILK POWDER AND OAT FLOUR
Oat flour is a flour made from ground rolled oats without anything added or done to treat the oats in the process – its primarily used for baking breads and cakes.
Whereas, our powdered oat m.lk is made using additional ingredients (coconut oil & salt) and relies on treating the oats with special enzymes. This gives it the great taste, texture and easy mixing qualities when added to water.