A CHEAPER OAT MILK ALTERNATIVE
Looking for a cheap oat milk alternative? You've found it. Our Oat M.LK Powder is a cost-effective way of meeting your oat milk needs!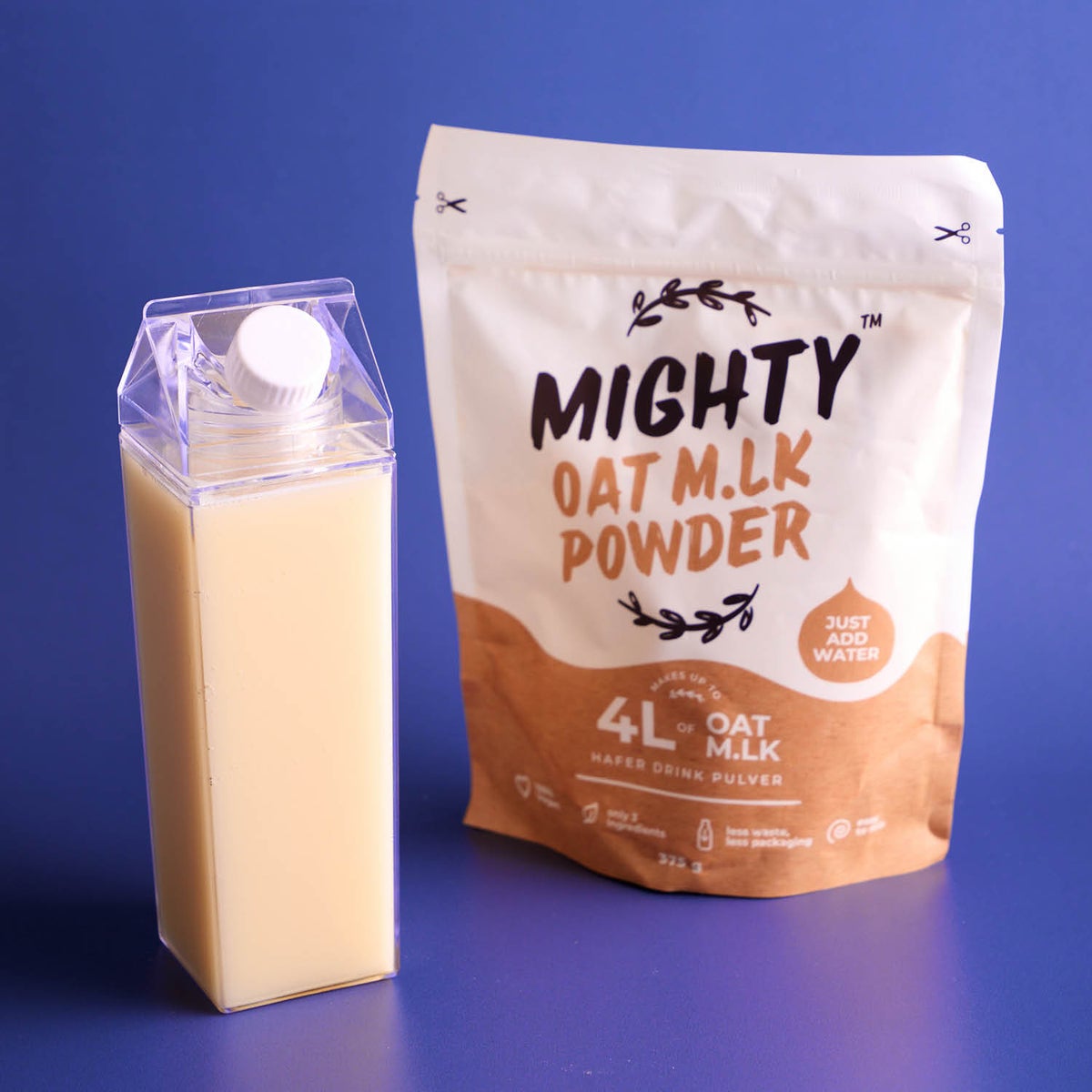 POWDERED OAT M.LK VS OAT MILK CARTONS
Bag yourself a good deal with MIGHTY Oat M.LK Powder.
Pay as little as £1.42 per litre.*
That's a 30% saving vs oat milk cartons.**
And in times like these who doesn't like getting the best deal possible?


*based on a purchase of 1125g at MIGHTY Drinks and making up to serving suggestion.
** based on Tesco RRP data of 1L oat milk market leaders.
START SAVING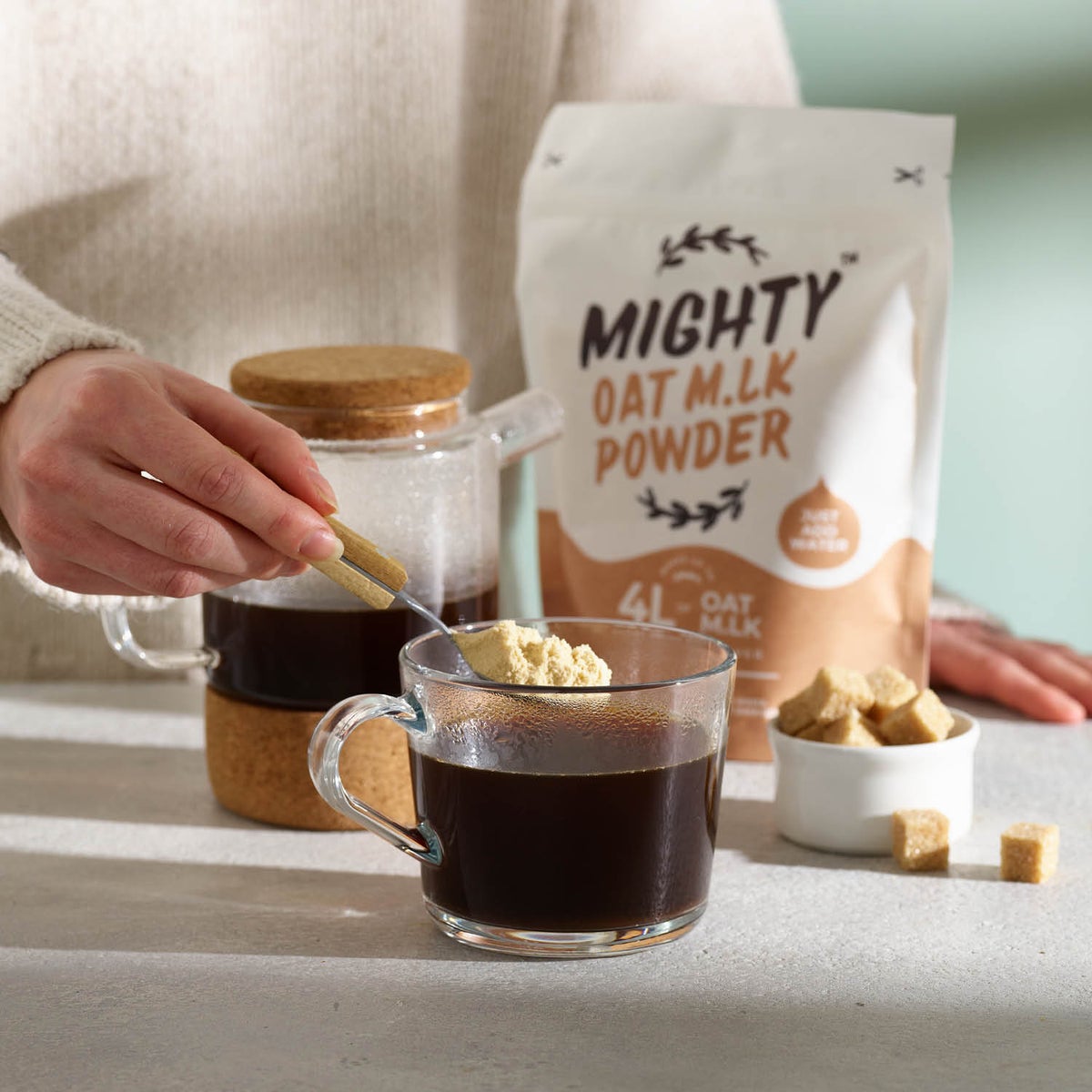 SAY GOODBYE TO WASTED MONEY
No more pouring those pennies down the sink.
No more lobbing half-drunk, out-of-date oat milk cartons in the bin.
No more wasted money.
Only make up as much oat m.lk as you need, when you need it.
TRY NOW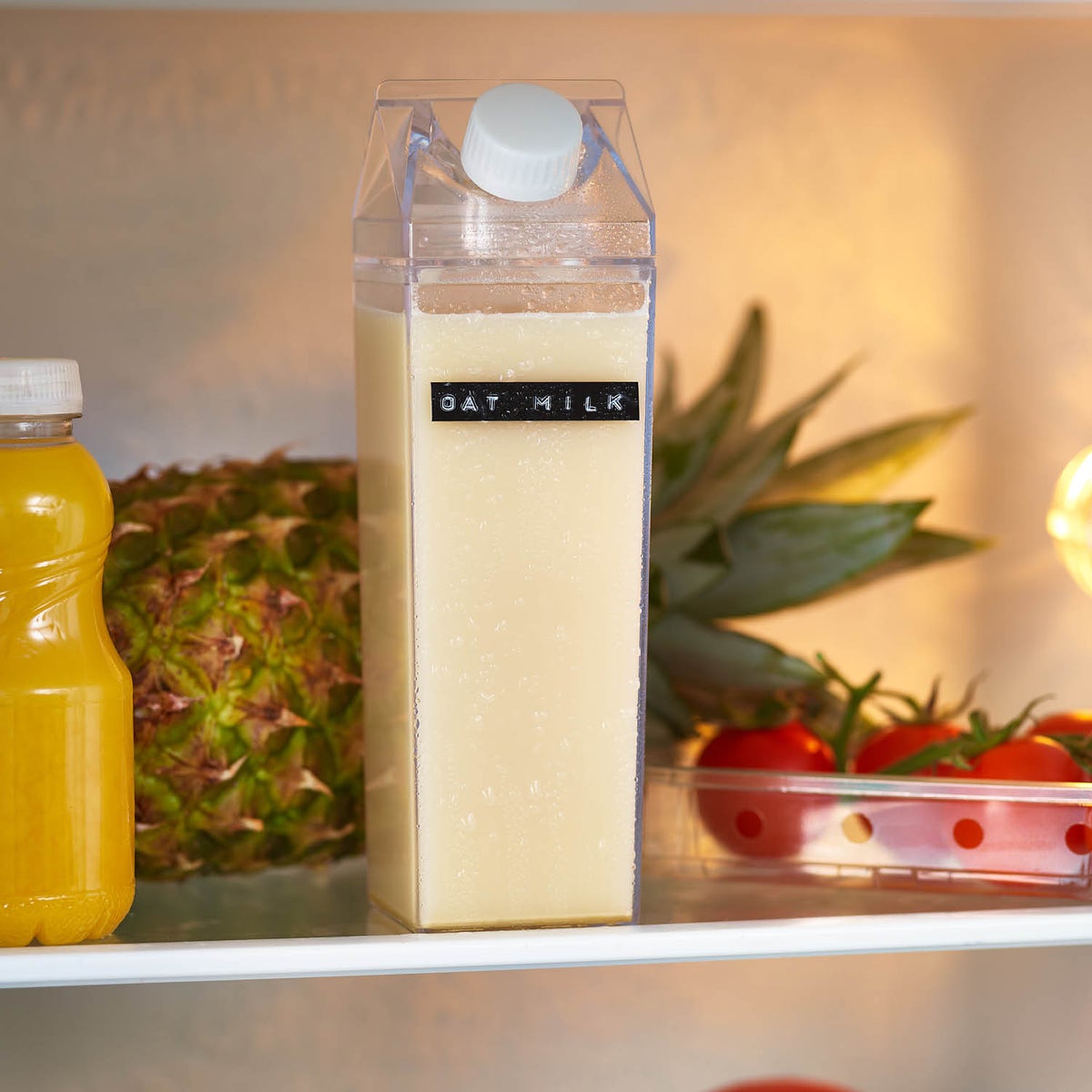 HOW TO USE MIGHTY OAT M.LK POWDER
1. Add roughly 25g to 250ml of cold, fresh water. (Adjust using the 10g per 100ml ratio)
2. Give everything a good stir/shake.
3. Add to a food safe bottle and store in the fridge before enjoying.
Or to use as a vegan coffee creamer , stir directly into your hot drinks. We recommend 1-2 teaspoons per brew.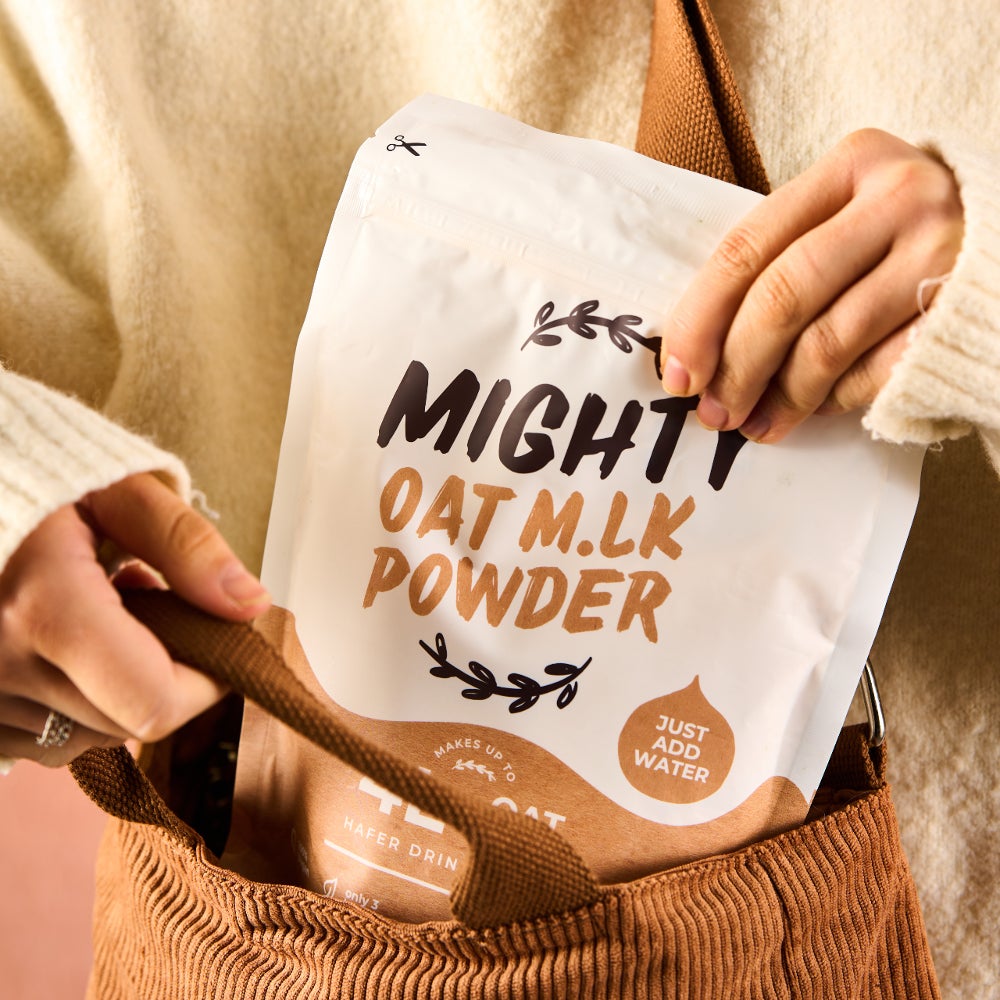 GREAT FOR COST-EFFECTIVE GETAWAYS
Oat m.lk powder can be enjoyed wherever you go.
Each bag of our vegan powdered oat milk is lightweight, easily transportable and fully resealable.
Making it an…
Ideal stowaway for trips abroad.
Excellent addition to camping trips.
And, a perfect companion for the office.
TRY NOW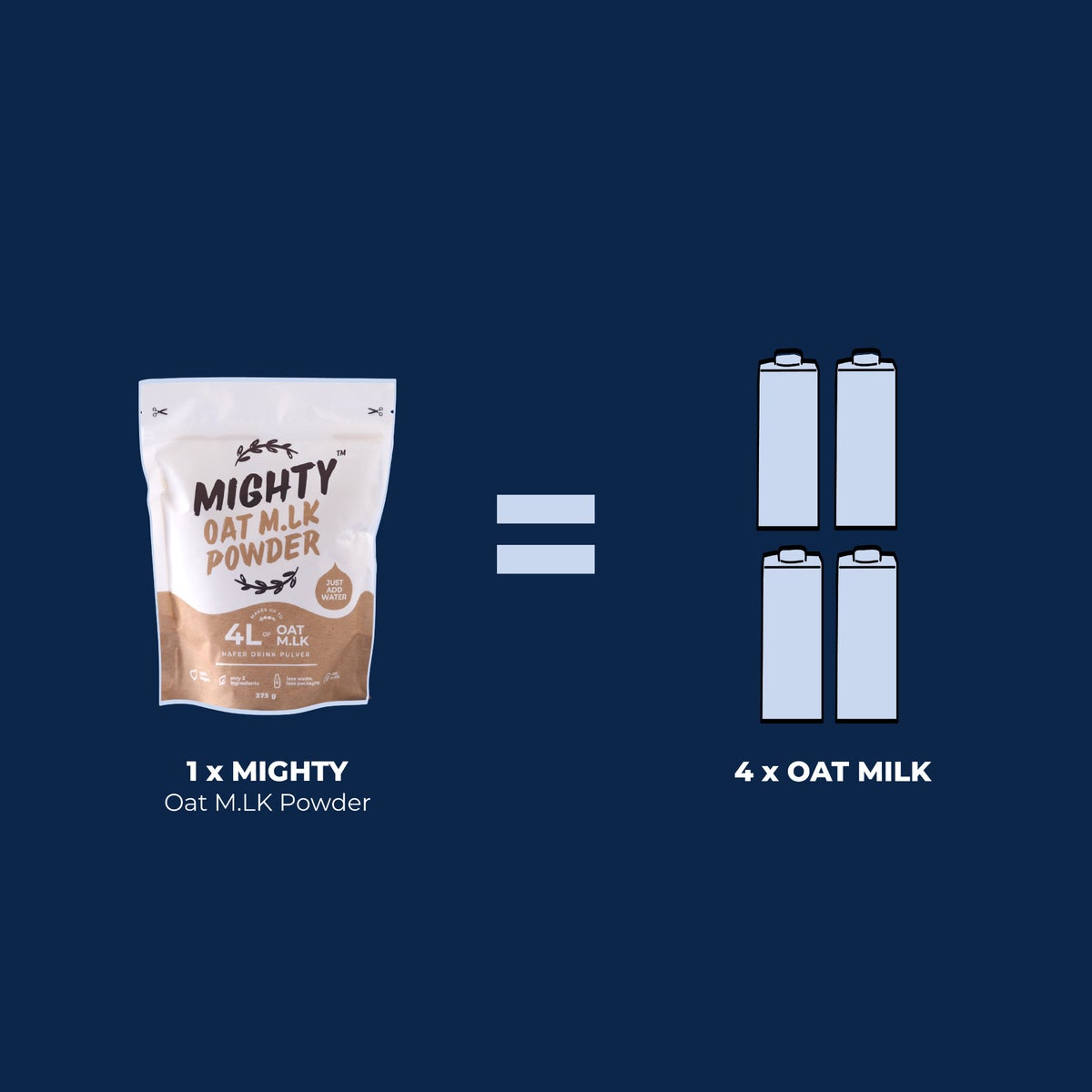 SAVE YOUR CASH AND THE ENVIRONMENT
Did you know that by switching to our dairy free milk powder substitute, you can reduce packaging requirements by 90% vs cartons?
How do we do it?
By removing the water, we're able to ditch the bulky cartons.
And instead, pack 4L of oat m.lk into smaller, lightweight, recyclable bags.
So, by adding the water at home, you reduce the need for excess packaging.
FREQUENTLY ASKED QUESTIONS
HOW LONG DOES OAT M.LK POWDER LAST?
Packs have a long shelf life and last up to a year if stored correctly.Store in a cool, dark place and once opened, fully reseal the pack keeping it in a moisture free spot.
DOES MIGHTY OAT M.LK CONTAIN ANY ARTIFCIAL FLAVOURINGS OR SWEETENERS?
Absolutely none.
Each pack of MIGHTY vegan milk powder alternative has only 3 ingredients: oat, coconut oil and salt.You won't find anything else. No added sugar. No artificial sweeteners. No animal products.
HOW CAN I USE OAT MILK POWDER?
We might be bias, but we think it's great on everything. It works for:
o Cereal
o Baking
o Cooking
o Smoothies
o Protein shakes
o Tea & Coffee
And, as our oat milk powder comes in an easily portable bag means you can take it travelling, camping, or to work with minimal fuss.Check out our guide to
powder oat m.lk uses
for more ways to enjoy.
WHAT IS THE PACKAGING MADE OF? IS IT RECYCABLE?
Bags are made from LDPE plastic which can be recycled. But, before you chuck them in your green wheelie, make sure to check locally whether your council can take the bags.
If not, bags can be recycled at large stores/supermarkets.
HOW MUCH OAT POWDER DO I NEED TO USE?
Our recommendation is using 10g of powdered oat m.lk per 100ml of water. Adjust for the amount you require. For extra creaminess, add slightly more powder.
CAN POWDERED OAT MILK BE USED AS A COFFEE CREAMER?
Yep, simply scoop up our plant-based creamer and stir into coffee and tea. There's really nothing more to it because our oat-based coffee creamer mixes well with no residue.
We recommend 2 teaspoons per brew but you can add more or less depending on how creamy you like it.